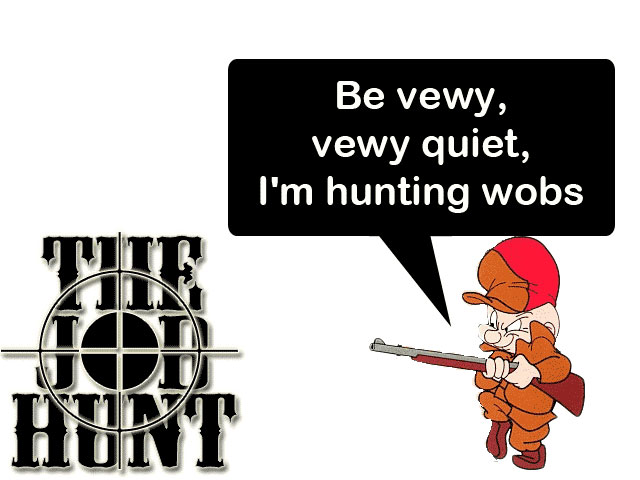 A photoshoped designed logo for my job search. As I've been back in the US, I've been looking for a job. I feel kind of like Elmer Fudd and never finding my wabit
Since I've been back in the Tri-Cities, I've been up to quite a bit. Mainly I've been focused on looking for a job, which the job search is always exciting. I've had some luck. I have my first interview scheduled for Thursday. It's at Nueva Esperanza Counseling Center in Pasco (a division of the Community Health Center: La Clinica). I would be a Counseling Case Manager. It sounds like the job would be working at a detox center.
I've put my application in maybe eight or 10 places so far. One place that seems to have a lot of hope would be at the Educational Service District 1 2 3. I have a friend that works for the Pasco School district who has been talking to their director on my behalf, which is a really sweet deal. You know what they say, sometimes it's not what you know, it's who you know. I think in my case, I have both going for me. I would be a prevention / intervention specialist for middle school students. It would be a great job, and I'd probably be able to work with what my friend just called little "thuglettes."
The other place of note that I've applied for (well, in the process) is for DSHS. Actually I'm applying for a couple of jobs there. One that would be cool is working with low-income / homeless people. It would be a bit stretching, because it's mainly with the elderly. But I have really enjoyed doing work with the homeless, so that would be really cool. I also like the possibility of it's a regional job, so I believe I'd be traveling all over Eastern Washington. This means that I could probably see my friends from all over too. Plus the job pays really really well, like just under $5,000 to just under $6,000 a month. I was talking to my mom, and she's never had a job that paid that much before. I think I could pay off my student loans pretty quick if I was doing that.
I've been putting my application in all over (I've mainly been looking right now in Tri-Cities, because I have a pretty sweet possible rent deal for a 2 bedroom house for only $200 per month or so) but also plan to look in Portland, and Spokane… and wherever else I can find a job. Other than the job hunt, I've been trying to see some old friends. A year is a long time to be away. If I haven't gotten the chance to hang out with you yet, give me a call. I have the same number. It's nothing personal, I've just been focused on job hunting. Figure I need to have some money coming in. Speaking of which, I went and donated plasma for the first time in several years! It's only $30, but when you have no money it's a lot.
I've also have been playing around with my computer. I created my first theme for my BlackBerry. It was made really quickly (in like 30 minutes or so), but I'm in process of making what will hopefully be a really cool one. When I finish, I'll post it (maybe I'll even sell it for like $00.99…).
Like I said, if I haven't had the chance to hang out with you… give me a call or wait around a bit and I'll get around to calling you.