The 2011 Holiday Newsletter for Jacob & Minnie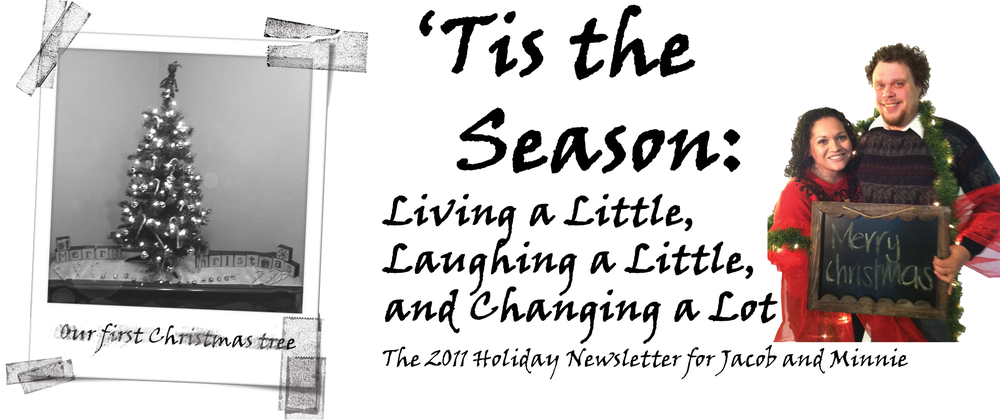 The head section of our 2011 Christmas Newsletter.
Monday, the 19th of December 2011
Dear Friends & Family,
2011 has been a year of new beginnings for both Minnie and I. While neither of us has ever sent out a Christmas Newsletter, we thought (although Minnie usually sends cards and I generally don't do anything) that you might enjoy it.
Minnie and I were both in different places a year ago; a lot has changed for both of us. Probably one of the biggest changes is that we have moved in together, at the Timber's Apartments in Richland. Most recently Minnie will be taking classes from Heritage at Columbia Basin College's campus in Pasco. She is a year closer to getting her bachelor's degree in Elementary Education and I'm a year closer to get my licensure to be a licensed independent clinical social worker. I started working more often with kids incarcerated at the Juvenile Detention in Kennewick. Minnie is still working for the Sunnyside School District, but she changed school to be working at Washington Elementary but she still misses her little goobers at Outlook Elementary.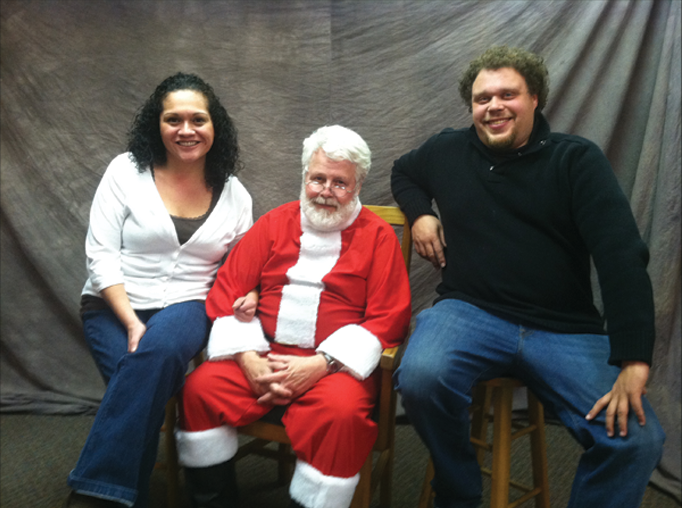 Minnie and I with Santa.
We've both been living and laughing a lot. Minnie spent the fourth of July with good friends camping on the Oregon coast. Spent good times with friends, went for her first hike in Wenatchee, and rediscovered herself on the beach. I was making trips back and forth to Spokane, still feeling a little culture shock from having returned from my jaunt down to South America, having fun with friends, and trying to get more stable.
For both of us the biggest story has been us meeting each other. We started going to Eastlake Church. We've been volunteering at My Friends Place. Along with our friend Charlie tried to give survival kits to kids on the only super snowy day yet this year, driving around trying to find any kids outside to tell them all about the new homeless shelter. Spending Thanksgiving with both of our families worked out beautifully. We spent some time with my mom and extended family and some time with Minnie's family and we even found time to accidentally explore Aberdeen (Kirk Cobain's home town and where his ashes were laid to rest).
Wishing you and yours a Merry Christmas and a Happy New Years! We hope all is well with you and your family. We would love to talk to you or spend some time with you. Let us know how your life has been going. Come check out our new apartment.
God Bless,
Jacob & Minnie